BY: JULIE BRADSTREET CIC, BRANCH MANAGER
Maine has 14,000 miles of groomed snowmobile trails including 4,000 miles of Interconnected Trail System (ITS). The ITS trails connect the state of Maine from Fort Kent to Kittery in a similar fashion to the highway system. Maine's trail system is maintained by over 280 Maine Snowmobile Association Clubs throughout the state by volunteer efforts. No state general fund money is used to support the trail system; rather the funding is based upon user pay revenues with a grant funding program. All funding for trail maintenance is derived through a very minor portion of the gas tax, snowmobile registration fees and donations.
The economic impact of snowmobiling to Maine's economy is staggering. In the most recent study, conducted in 1998 by the University of Maine and Maine Snowmobile Association, it revealed the economic impact of snowmobiling on the state's economy to be $261 million. That same study also showed 69,000 snowmobiles were registered to Maine residents and 6,500 to non-Maine residents in a year.
John Bailey, president of the Central Aroostook Snowmobile Club (CASC) located in Mars Hill, is quick to point out that it requires extensive volunteer hours to maintain trails. He stated "the dedication level is very high in these clubs, with people grooming the trails until 3:00 am after having worked all day only to return to work the next day." They do it for the love of the sport and the recognition of the importance of snowmobiling to the local economy. It's also an expensive enterprise to maintain a club's buildings and grooming equipment. In 2015, CASC purchased a new trail groomer and drag at a price tag just shy of $200,000.
The biggest challenge for snowmobile clubs remains weather dependence, as witnessed by the extreme disparities in Maine's past two winters. Meeting that challenge is all part of staying on track.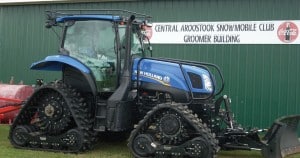 Julie is an agent for personal and commercial insurance and branch manager for F. A. Peabody Insurance. She is a Certified Insurance Counselor.