We certainly don't take summer for granted here in Maine. Every spring, we dust off our summer toys – our motorcycles, boats, and ATVs.  We use them in every free moment we have through the warm months. We reluctantly put them away as late as possible in the fall. During all of the fun, we often forget to think about insurance. But not being properly covered can take the fun out of the summer pretty quickly. Let's list a few things you should know about insuring your summer toys.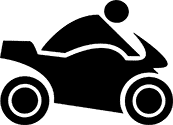 Motorcycles
Motorcycles are registered to ride on the same roads as automobiles. So, they are subject to the same liability laws as automobiles. Policies are generally very cost-effective. The cost depends on your driving history and the type of bike you drive.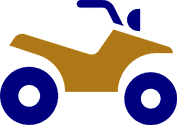 ATVs
With ATV and snowmobile clubs all over the state, we have some very nice, well-maintained trails for riding off-road. Many consumers think that their ATVs are covered by their homeowners policies. Damage to your ATV is not covered under your homeowners policy. There is some liability coverage for ATVs under your homeowners, but only while the vehicle is on your own property. You need to have separate coverage for the ATV itself if you take it on the trails. This policy is similar to an auto policy, with liability, comprehensive and collision coverage available. This is a great idea, especially since some of the larger ATVs can cost up to $15,000 new.

Boats, including jet-skis
Any motorized watercraft should have its own policy. There is some liability coverage under the homeowners, but is usually limited to a fairly small boat and engine size.

RVs/Campers
Motor homes require liability insurance to be legal for the road. Tow-behind campers can be nearly as expensive as a motor home. Although campers have liability coverage on the road under the auto policy for the vehicle that is towing them, they require additional coverage for damage to the camper. Accessories, such as awnings, require additional coverage. Make sure you tell your agent if you have special accessories.
Trailers
Most of these toys require a trailer to transport them.  Make sure to list them if you want comprehensive or collision coverage on them.
Off-season storage
Most insurance companies realize that our summer recreational vehicles sit in storage for half of the year. So, many provide a reduction in coverage throughout the winter months to save you premium. Just tell your agent when you are done for the season. Remember to call in the spring when you dig your fun stuff back out!
Give us a call or chat to discuss options for insuring your toys!
Visit us on Facebook