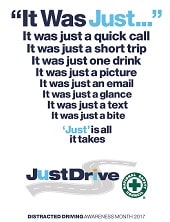 We've all met drivers who are talking on their phones, or discreetly looking down at their laps instead of at the road. How often do we do the same thing? Just a few seconds of inattention could be the difference between life and death.
According to the National Safety Council, there were about 40,000 motor vehicle deaths in America in 2016, estimated to be the highest number in the last nine years. Cell phone use surely plays a huge roll in this increase.
The Council has subsequently named April Distracted Driving Awareness Month, and promotes the event on its website.
Remember to put your phone down and Just Drive.