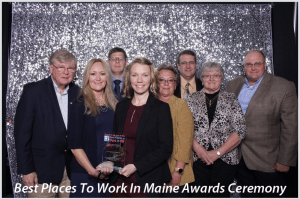 Message from the President
Fall is now in full bloom! Over the last few weeks I've traveled to Maine's finest spots from the grand North Maine Woods to the shores of Kennebunkport.  A marvelous state we have!
I'm very pleased to announce the F. A. Peabody Company was recently selected as a 'Best Places to Work in Maine' business hosted by the Maine Human Resource Management Council.  This statewide survey and awards program was designed to identify, recognize and honor the best places of employment in Maine.  To see the list of companies selected click here!
In addition, F. A. Peabody Insurance was recently recognized as one of the top 50 agencies among Foremost Insurance Company's 30,000 agencies nationwide!  The Foremost Hall of Fame recognition is awarded to agencies with the highest growth, profitability and underwriting integrity.  It is the second year in a row we've achieve this honor.
Read on to enjoy our fall newsletter.  Remember, an apple a day keeps the doctor away…AND don't text and drive!!!
Best wishes to you and your family,
Christopher B. Anderson CPCU, WCP
President
---
Five Things You May Never Have Known About Fall!
Ever wonder who first thought of using a stick and straw figure to frighten off crows? You may be surprised to learn that nobody knows for sure.
No one can name the inventor because evidence shows that as early as 2500 BC, Greek farmers were protecting their crops with wooden scarecrows. Egyptians were defending their wheat fields with netted structures along the Nile.
What other fun facts does fall hold in store? Here are a few other things you probably never knew about autumn.
FALL FOLIAGE:
Are you aware of the biology behind the beautiful colors? Scientists explain that leaves change color because reduced daylight decreases chlorophyll production. Reduced chlorophyll makes other leaf compounds with red and yellow pigments more visible.
FALL BIRTHS:
Interestingly, this colorful time of year is also a high season for births. While researchers are unsure of the exact reasons for the fall baby boom, they note that the season falls roughly nine months after the winter holidays. Winter often finds that people spend time celebrating together or taking romantic getaways.
And guess what? Animals are friskier in the fall, too. For animals, autumn conception ensures a springtime birth, giving newborns time to grow strong enough to survive their first winter.
FALL MIGRATION:
You've heard of birds flying south for the winter, but did you know Monarch butterflies migrate in the fall? These insects travel up to 2,500 miles to find nicer weather for the season, flying up to 25 miles per hour during their journey.
FALL SKIES:
If you've ever feasted your eyes on the Northern Lights, you know it's a sight to behold. This natural light show in the night sky occurs more often in the fall due to the season's clearer, longer nights.
While there may be nothing new under the sun, the shift in sunlight produces new and amazing wonders to enjoy each fall!
---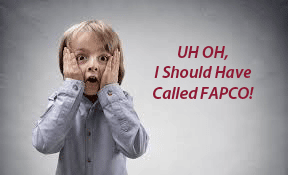 4 Biggest Insurance Mistakes!
1:  Buying Merely The Minimum Liability Insurance Required By Your State
Almost every state has a minimum amount of liability insurance required in order to drive your vehicle. The state of Maine's minimum liability coverage is $50,000 per person/$100,000 per accident for bodily injury and $25,000.00 for property damage. You can easily do more than $25,000 damage to another vehicle at current price levels.  If you only carry the minimum liability insurance, it could leave you open to a lawsuit, garnished wages, or potentially lost assets.
Discuss different liability amounts with your agent to see what is necessary.  The cost for increased coverage is generally very affordable.
2: Insuring Your Home For The Purchase Price Rather Than Replacement Cost
If you insure your home for the amount that you paid for it originally, you will be falling behind the increasing cost of replacing your home. Your home should be insured for the amount of money it would cost to REPLACE your home in today's dollars.
If a fire completely destroyed the house, you would need replacement cost insurance in order to afford a like replacement and not have to take money out of pocket.  The cost of replacing your home could easily be tens of thousands over what the house would sell for on the market.  Furthermore, in the event that you are building a new home, the cost of building that home in many cases is more than the market value.
3: Buying The Cheapest Policy
It may seem easier, but it's not the best strategy to purchase the cheapest insurance without doing a comparison of the coverages.  When considering that the policy that fits your needs, in most cases there is a very small difference in price.
First, you want to make sure that you're buying from a reputable company.  You want a solid insurance carrier that makes the claims filing experience simple.
Also, you want to make sure you're comparing apples to apples.  Does the cheaper policy only insure your home for cash value instead of replacement cost (like mistake #2)? Does one company exclude coverages that another includes? Also, what deductibles are you being quoted from the different insurers? Do you require special coverages that can be endorsed by one carrier and not another?
4: Not Using An Agent
It's always best to work with an insurance agent that you are comfortable speaking with about your insurance questions.   Work with an agent that will match your insurance policy to your required coverages and your financial situation.  It's important that you don't pay for coverage that is unnecessary and have the coverage you need if a claim should arise.
---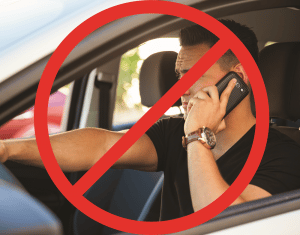 Maine Law L.D.  165 –An Act To Prohibit the Use of Handheld Phones and Devices While Driving!
L. D. 165 went into effect as of September 19, 2019 in Maine. The purpose of the law is stop distracted driving due to mobile phones and handheld devices while driving on a public way.
It prohibits text messaging specifically stating "A person may not operate a motor vehicle on a public way while engaging in text messaging, including but not limited to when the motor vehicle is temporarily stationary because of traffic, a traffic light or a stop sign."  It further goes on to give more clarification regarding texting.  The fine for violating this prohibition will not be less than $250.
This law also states the Use of mobile telephones and handheld electronic devices while operating motor vehicles is prohibited and reads as follows:
 "A person may not operate a motor vehicle on a public way while using, manipulating, talking into or otherwise interacting with a handheld electronic device or mobile telephone, including but not limited to the use of a handheld electronic device or mobile telephone while the vehicle is temporarily stationary because of traffic, a traffic light or a stop sign, unless"…and follows with greater detail regarding this prohibition and the exceptions to the above.  The fine is a sliding scale fine that can increase with subsequent violations of this law.
This new legislation also clarifies when it is permissible to use a mobile phone or handheld electronic device and clarifies "hands-free mode".
In order to read the entire law go to Maine Legislature & type in L. D. 165.
---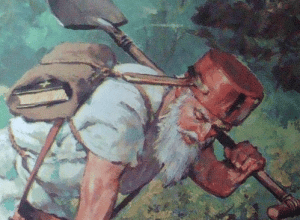 When We Think Of Autumn, We Think Of Apples & The Legend – Johnny Appleseed!
One of America's most popular folk heroes is early philanthropist, frontier explorer, and pioneer apple farmer Johnny Appleseed.
We remember John Chapman, a.k.a. Johnny Appleseed, as a dreamy wanderer, nursing sick or injured animals, aiding struggling settlers, and planting apple seeds across the land. As a young man, he made his way westward from his native Massachusetts through Pennsylvania, Ohio, and Indiana. He planted trees along his routes so that people would never have to go hungry.
Johnny Appleseed was known to be friendly, kind, pious, and generous. He preferred to barter or trade food or clothing or even give seeds away for free rather than charge money for his trees.
Although he dressed in castoff rags, rarely wore shoes, and lived off the land, this wanderer was not poor. Indeed, research suggests that Chapman was an astute, intelligent businessman who acquired vast tracts of land and developed thousands of acres of apple orchards over the course of his lifetime. At the time of his death at age 71, he owned approximately 1,200 acres of land.
We can thank this legend for helping spread and popularize apples throughout America. Today, the fruits are grown worldwide and are known to have religious, mystical, and mythological significance in many cultures. There are some 7,500 known cultivars of the species, each with its own specific characteristics.
Rich in antioxidants, fiber, and flavonoids, apples are a healthy, nutritious, low-calorie food. They are also, of course, a school-lunch staple.
---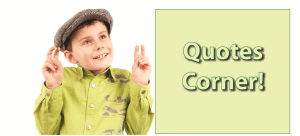 This month, some famous quotes on coffee:
"If it wasn't for the coffee, I'd have no identifiable personality whatsoever." David Letterman
"I like coffee because it gives me the illusion that I might be awake." Lewis Black
"I put instant coffee in a microwave oven and almost went back in time." Steven Wright
"Science may never come up with a better office communication system than the coffee break." Earl Wilson
"I never drink coffee at lunch. I find it keeps me awake for the afternoon." Ronald Reagan
"Our culture runs on coffee and gasoline, the first often tasting like the second." Edward Abbey
---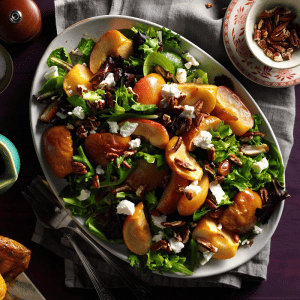 Roasted Apple Fall Salad Recipe!
Here's a fresh addition to your warm fall meal. Serves 8
Apples:
4 medium Fuji or Gala apples, quartered and seeded
2 tablespoons olive oil
1/2 teaspoon nutmeg
1/2 teaspoon black pepper
1/2 teaspoon cinnamon
Dressing:
2 tablespoons apple cider vinegar
2 tablespoons olive oil
1 tablespoon maple syrup
1/2 teaspoon red pepper flakes (optional)
Salt and pepper to taste
Salad:
1 package baby spinach
4 ounces fresh goat cheese
1/2 cup dried cranberries
1/2 cup chopped pecans, toasted
Preheat oven to 375 degrees.
Place apples, olive oil, nutmeg, pepper, and cinnamon on a baking sheet and toss to coat evenly. Roast 20-30 minutes or until tender. Remove and cool completely. Set aside. In a small bowl, whisk the dressing ingredients until blended. Place spinach in a salad bowl and toss with the dressing, roasted apples, cheese, cranberries, and pecans. Serve immediately.