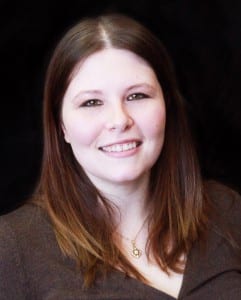 Houlton, Maine – Chris Anderson, President of the F. A. Peabody Company announced that Dawn Halkyard, ACSR, CIIP  and CLP of the FAPCO Sherman office has been named the state of Maine recipient for the Swett and Crawford "Young Insurance professional of the Year" by the Young Agents of the MIAA (Maine Insurance Agents Association).
Each year the MIAA receives many nominations from peers, employers, co-workers and/or MIAA Staff for this award.  This year's recipient, Dawn Halkyard, received numerous nominations.  The MIAA recognized Dawn for the following qualifications:
•    She is a highly motivated person.  Her desire to learn and succeed is amazing.  She is a strong leader and is involved in many areas of our business and represents our company with excellence.
•    This individual is constantly finding new ways to improve customer service and helping those she supervises to reach their full potential in their jobs.  She works diligently with clients to inform them of the coverages they need and to help resolve any issues they have.
•    She started in the agency business in 2006.  She is always seeking more insurance knowledge and has earned the designations of ACSR, CIIP, and CLP and is currently working toward obtaining her CPCU and CISR designations.  She is very active in the Insurance Association of Greater Houlton, having served in several offices, including President in 2008 and 2009.  She is currently chairing the bylaws committee, corporate sponsors committee and co-chairing the annual Maine Council meeting for IAIP.
Chris Anderson of the F. A. Peabody Company stated, "Dawn is a model to others in the insurance industry."
Dawn began her insurance career with FAPCO in 2006 and earned her Maine Property & Casualty Insurance license in 2008.  She has served in several roles for FAPCO including Commercial Lines and Personal lines Customer Service Agent.  She has served most recently as Staff Supervisor of the Sherman Branch office since 2013.
In addition to being named state of Maine "Young Insurance Professional of the Year", Dawn was recognized as the "Outstanding CSR of the Year" for the state of Maine in 2014 by the National Alliance for Insurance Education & Research.  Dawn has been also been an active member of the Insurance Association of Greater Houlton since 2007 and was named Insurance Professional of the Year in 2009 and 2015 by that organization.  She has earned her ACSR, Accredited Customer Service Representative, CIIP, Certified Insurance Industry Professional and CLP, Certified Leadership Professional designations.
The F. A. Peabody Company (FAPCO) is a multi-line insurance agency that services the state of Maine and other New England states.  It offers property and casualty insurance, life insurance, health insurance and a full spectrum of financial services.  They have a business insurance division that specializes in the full line of commercial insurance products including general liability, workers compensation and bonding.  The personal insurance division handles home, auto, recreational vehicles and much more.    FAPCO was established in 1927 and has grown to eight offices throughout northern and central Maine.  In order to learn more about FAPCO visit the website at fapeabody.com.