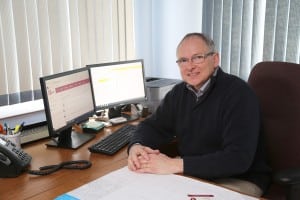 Houlton, Maine – Chris Anderson, President of the F.A. Peabody Company announces the hiring of Mark J. Putnam as a commercial sales executive for the business community of central Aroostook County.  Mark will report from the Presque Isle branch office.
Mark is a licensed state of Maine Property and Casualty agent and will be working in the multi-line commercial insurance sales department focused on general business, non-profit agencies, agriculture, retail and manufacturing.  He has several years of experience in sales and management with his most recent position as the executive editor of Northeast Publishing Company in Presque Isle for 17 years and as a corporate account executive for Unicel Telephone for 10 years.
Mr. Putnam graduated from Houlton High School.  He earned his Bachelor of Arts degree in Advertising/Journalism from the University of Maine in 1983.  He has been a Rotary International member since 1987 and was named a Paul Harris Fellow in 2005. He has also served on the Board of Directors of the Central Aroostook Chamber of Commerce and the Board of Visitors at the University of Maine at Presque Isle.   Mr. Anderson states "Mark's rich life experiences and broad knowledge of Aroostook County industry and commerce will provide immeasurable benefit to his clients and to our company".
Mark is looking forward to this new opportunity and to serving the insurance needs of businesses in Aroostook County and throughout the State of Maine. His interests include kayaking, hiking, golf, skiing and bicycling. He resides in Presque Isle with his wife, Susan. They have six children and 11 grandchildren.