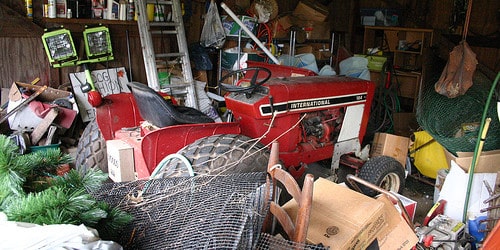 Spring has sprung, and it's about time! Everybody knows that with springtime comes spring cleaning – for you, maybe that means your garage has become a catch-all for all sorts of holiday decorations, old toys and clothes, gardening equipment, and other things which have become difficult, if not impossible, to find, let alone use. It's time to kick off the spring cleaning season by getting organized and tidying up your garage to maximize the storage space you have, not to mention hopefully park your car in there someday!
On a nice day, when you've got a few hours to spare, take everything out of your garage in order to take stock of exactly what you have and what you'd like to get rid of. This is a great way to clear out old broken knick-knacks, equipment that needs repair.
Be honest with yourself as you go through your belongings: do you really need this, or can you donate it or sell it? You can then sort your items into piles, one bit at a time. You may also want to invest in shelving or other vertical storage space at your local home improvement store and organize things on the walls and hanging from the ceiling rather than cluttering up the floor.
Grouping your items according to category, such as tools, painting equipment, sporting gear, toys, gardening and lawn care items, etc. can really help you! You can then store items in clear containers to make it easy to see what's inside – or you can label boxes and bins which are not see-through.
Organizing your garage provides the perfect opportunity to get rid of old paints or other toxic materials that are a potential safety or health hazard, not to mention may lead to a fire. Keep your garage clean and well-organized, and you can prevent accidents and injuries that often result in liability claims on your homeowner's insurance. Happy spring cleaning!