---
Providing insurance to Sherman, Maine and the beautiful and unique Katahdin Region of the state.
In 1956, F.A. Peabody Insurance of Houlton, Maine, established its first branch office in Sherman. At that time, one agent worked from home. In 1981, the agency built a new branch office and hired more employees to better serve the community.
Sherman, Maine is a small town in the heart of the Katahdin Region, best known for Baxter State Park and the formidable Mt. Katahdin, the highest peak in the state, and countless hiking trails. The region includes not only Sherman, but towns such as Patten, Island Falls, Millinocket, East Millinocket, and Medway. Certainly, it is a sparsely populated area. However, the people who live here require diverse personal and business insurance products. Our small-town agency supplies these products, with the help of modern technologies.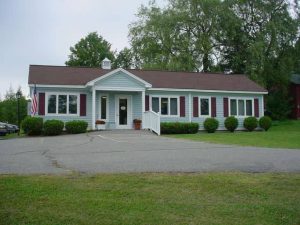 Athough small, our Sherman branch affects the entire state of Maine. In addition to serving the immediate community, an employee in our Sherman office staffs our online customer service chat. Also, many of our phone calls are directed through our sophisticated system by staff in Sherman. So, the benefits of a personal agent are combined with the state-of-the-art technology that our office possesses.
Thinking about moving to Maine? Here are some reasons why you should.
| | |
| --- | --- |
| Monday | 8:00 AM - 5:00 PM |
| Tuesday | 8:00 AM - 5:00 PM |
| Wednesday | 8:00 AM - 5:00 PM |
| Thursday | 8:00 AM - 5:00 PM |
| Friday | 8:00 AM - 5:00 PM |
Local organizations we support: