---
Serving the Calais, Maine and Downeast region with the insurance that meets their needs.
Our Calais, Maine insurance office is located in the international hub of the Downeast area, with a major border crossing into New Brunswick, Canada. F.A. Peabody Insurance acquired the long-standing Milliken Agency in 2009, creating its 8th insurance office in the state.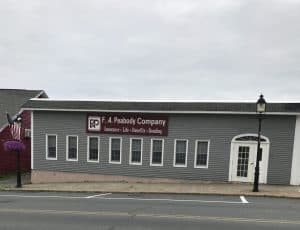 The addition of the office in Downeast area broadened our business insurance knowledge to include commercial fishing and boating. Nothing says "Maine" quite like fresh lobster! The Calais area has a rich history on the water and the fishing industry makes the region's culture unique, unlike any other region in the country.
Also making our area unique is the proximity to St. Stephen, New Brunswick, just across the St. Croix river. The border crossing employs a great number of Customs and Border Patrol agents from all over the U.S., which adds another rich dynamic to our community. Our personal lines agents are prepared to provide home and auto insurance quickly to people moving into the area for their jobs.
Calais is also home to Maine's first municipally-owned internet provider, Downeast Broadband Utility, which provides fiber-optic high-speed internet throughout the towns of Calais, Baileyville, and Alexander.
| | |
| --- | --- |
| Monday | 8:00 AM - 5:00 PM |
| Tuesday | 8:00 AM - 5:00 PM |
| Wednesday | 8:00 AM - 5:00 PM |
| Thursday | 8:00 AM - 5:00 PM |
| Friday | 8:00 AM - 5:00 PM |
| Saturday | Closed |
| Sunday | Closed |
Thinking about moving to Maine? Here are some reasons why you should.
Local organizations we support:
St. Croix Valley Chamber of Commerce