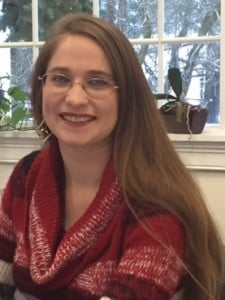 Mars Hill, Maine – The National Alliance for Insurance Education & Research has announced that Lori Duval is the 2018 Outstanding CSR of the Year recipient for the state of Maine.  Duval began her insurance career as a customer service representative for F.A. Peabody Company (FAPCO) in 2015.  She obtained her Property and Casualty License in 2016.
To qualify for this top state honor, Duval submitted the winning essay, answering the following question: "In today's business environment, CSRs are finding that more work is required from a smaller staff pool.  As a CSR, what four ways have you found beneficial in helping you accomplish work tasks while still providing excellent customer service?  In short, how do you do more with less?"
Additionally, entrants must have demonstrated commendable service to their agencies, their industry, and their community. "The Outstanding CSR of the year Award recognizes the annual exemplar for exceptional customer service representatives across the nation," said Danielle Janecka, Senior Vice President of The National Alliance. "Through their essays, contributions to their agencies, and their letters of recommendation, every one of the state winners helps to raise the standard for personal and professional excellence.  We honor them for their clear contributions to their colleagues, teams, and organizations.  They are the face of customer service for our whole industry."
Christopher Anderson, president of the F. A. Peabody Company, states "recognizing the good work of our insurance industry service agents in these challenging times is very important.  They are the face of our industry with which customers put their faith.  Lori Duval exemplifies the best of the best!"
Duval received a framed award along with a scholarship for one of nine CISR courses offered through The Society of Certified Insurance Service Representatives. She will now be eligible to compete for the national award.
Duval has been a member of the Insurance Association of Insurance Professionals since 2015.  She has served as Chairman of the Membership, Scrapbook, and Camera Committees, and has been engaged in many events and fundraisers for the local affiliate of the Insurance Association of Greater Houlton.   She most recently serves as Vice President of the Association.