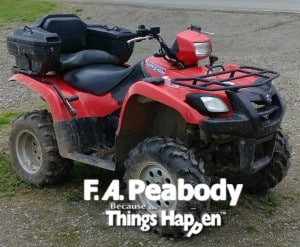 In general, ATV insurance is not required in the state of Maine; however, there are exceptions.  If the ATV is financed, the bank  will likely require insurance on your ATV. If the ATV is street legal and is licensed for public roads, insurance is required.  Whether you are required to have your ATV insured or not, below are several reasons to consider buying ATV insurance:
ATV insurance may include liability coverage. If you are involved in an accident where someone is injured or property is damaged, liability coverage will pay the injured party's medical bills or repair damaged property up to the policy limit.  It will also cover your legal fees if you are sued.
Collision coverage will help pay for damage to your ATV if you hit another party or object(s).
Comprehensive coverage is optional but will pay if your ATV becomes damaged due to severe weather, vandalism, fire or is stolen.
Uninsured/underinsured motorist coverage is part of liability coverage and assists in paying for bodily injury to you and a passenger, should another rider, who does not carry insurance, cause an accident.
ATV insurance typically covers your vehicle and any riders; however, there are possible exceptions for younger operators.
In most instances your ATV insurance extends to others driving your vehicle and helps assure that you will get help paying for damages should a friend or family member damage your ATV.
ATV's are not covered by a standard auto policy or a homeowners policy.
Remember that 4 wheelers or side by sides are not the only ATV's that may need coverage. A golf cart, dirt bike, snowmobile, utility vehicle, dune buggy, Segway and more are ATV's that you should consider insuring
Always remember that "If It Rolls.. We Insure It!" Because ….Things Happen