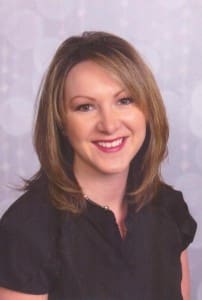 Lincoln, Maine – Cassie Fostun, commercial customer service agent of the F. A. Peabody Company (FAPCO) of Lincoln, was recently named the 2017 Outstanding CSR of the Year for the state of Maine by the National Alliance for Insurance Education & Research.  Mrs. Fostun will be advancing to the national award competition where four finalists and a winner will be chosen.
The National Alliance began in 1969 in Austin, Texas for the purpose of creating, developing and delivering practical educational programs for everyone involved in the insurance and risk management industry.  The National Alliance is best known for anticipating the imminent needs of the industry, drawing on the vast intellectual resources represented by insurance agents and faculty, and continually providing the best insurance and risk management education available.
The Outstanding CSR of the Year Award is one of the greatest professional honors a customer service representative can receive.  It confers recognition of the highest order – an acknowledgement of the recipient's dedication, ability, commitment, and outstanding achievement.  The primary criteria considered in bestowing the award was the essay submitted by Mrs. Fostun outlining the five factors one should consider about an employer and position before accepting a job; employer reputation, employer benefits, employer sponsored training and continuing education, team atmosphere and advancement opportunities.
Cassie has worked in the insurance industry since 2015, immediately joining the International Association of Insurance Professionals.  Cassie's eagerness to excel and persevere is reflected by the scholarships she has been awarded as she works toward the Certified Insurance Service Representative designation.  Her dedication to co-workers, community and career are endless contributing to each through education, professionalism and achievements.  Cassie's self-motivating drive to succeed personally and professionally is empowering and recognized by many within FAPCO, by her customers and throughout the industry.  "Cassie's empathy toward her insured clients, co-workers and family is a model for others to emulate.  This award is well deserved!" exclaims Christopher Anderson, president of F. A. Peabody Company.
Cassie states, "The essay I submitted is a reflection on my employment with FAPCO, who has provided me the opportunity to advance my career as a customer service representative. Working with the FAPCO family, who has similar values and core beliefs, helps me achieve my goals both professionally and personally. I am greatly humbled and honored to be receiving this award."