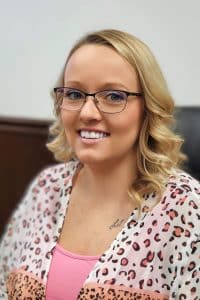 Calais, Maine – Darlene Gillespie, Calais Branch Manager for the F. A. Peabody Company (FAPCO,) has announced that Kristina Dean has been hired as a personal lines sales agent.
Kristina grew up in Washington County and graduated from Shead High School. She worked for five years as an insurance agent in Baileyville & Calais. In her spare time, she waitresses at The New Friendly Restaurant, where she has been for about ten years. She looks forward to continuing to build relationships and helping people in the Washington County area with their insurance needs. Kristina resides in Robbinston, with her husband Todd Dean and step-son Gage, and is expecting a baby girl in September!
Darlene Gillespie says, "Kristina joins F.A. Peabody with a valuable background in insurance. As a Washington County native, she understands the unique needs of our community. We are excited for Kristina to join our staff!"
Kristina is already licensed and ready to sell insurance. For your insurance needs in Washington County, you can reach Kristina at moc.ydobaepaf@naed.anitsirk or 207-454-4805.