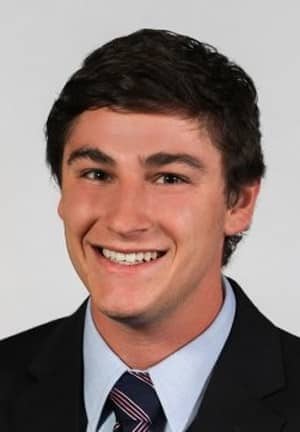 Houlton, Maine – Ken White, Vice President of Sales for F. A. Peabody Insurance, recently announced the hire of Lucas J. Anderson as the most recent member of the sales team.  Lucas successfully earned his property and casualty license and is joining the company as a personal insurance sales agent working out of the Westbrook, Maine branch office.
Lucas was born and raised in Aroostook County and graduated from Houlton High School in 2012.  He attended Bryant University graduating in 2016 with a Bachelors of Science in Business Administration with a concentration in Management.  During the summer months between academic years, he worked as a Intern for Senator Susan Collins' main office in Washington DC, held an insurance internship in the human resources department at MMG Insurance Company based in Presque Isle, Maine & an internship at the Aroostook Partnership based in Caribou, Maine.
Immediately out of school Lucas joined the National Civilian Community Corps (NCCC), a division of the Americorps.  The Americorps mission is to improve lives, strengthen communities, and foster civic engagement through service and volunteering.  The NCCC does this by specifically engaging with local nonprofits and communities to complete hands-on projects throughout the country.  In 2017, Lucas then joined SmartBrief, a national digital news aggregation publishing firm located in Washington DC.  His role there was to promote member businesses with lead generation and other digital services.  Lucas explains, 'I look forward to putting to use the foundation of service I learned at Americorps along with the sales skills I cultivated at SmartBrief when working with insurance clients.'
Chris Anderson, president of F. A. Peabody Insurance, is excited for Lucas to join the firm and make a move back to Maine.  'Luke's previous work in community service followed by a direct position in sales provides an excellent springboard for working in insurance.  Helping people navigate the complexity of insurance with compassion fits  FAPCO'S culture of consultative selling.'

Lucas Anderson
Sales Agent
As a family-owned and operated company, we believe our employees are our most important resource.  Therefore, we're looking for motivated and talented staff. F.A. Peabody Company is committed to our customers, our employees and our communities. We provide training and many growth opportunities. As a result, this a great place to work. In fact, we have been selected as one of Maine's Best Places to work more than once!