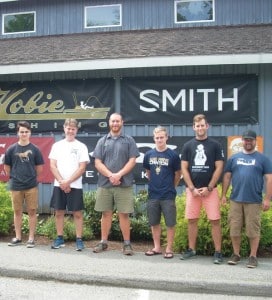 By: Heidi White, Life & Health Agent, F.A. Peabody Insurance
Ski Rack Sports, located in Bangor Maine, has been owned and operated by Jay Peet's family since 1984.  Jay's
father, Jeff, ran the business until he passed away suddenly in 2003.  Jay,having just graduated from the University of Maine, began working there the following week to help fill the void left by his father's passing.
Ski Rack's inventory has changed through the years based on consumer trends.  Jay's store carries a vast array of top brands in ski and snowboard equipment, kayak and canoe equipment, and a wide variety of bicycles.  Currently, revenues are made up of about 60% winter sales, 20% canoes and kayaks, and 20% bikes.  One market that Jay has seen great success with, is cosmetically blemished canoes and kayaks.  These boats, which he acquires from the Old Town Canoe factory located near Ski Rack Sports, have been scratched or dented in the production process and are sold at discount prices.
The 80's were a time when skiing was at its peak; however, the Peets noticed a significant drop off in that sport in the 90's.  It was then that they first opened their bike shop to meet new consumer demands.  Today, Ski Rack Sports carries a significant inventory of hybrid, road, and mountain bikes.  Cannondale and Scott are the two top brands showcased in Jay's bike shop.
Jay is a firm believer that service plays a crucial role in reaching success; therefore, he offers a full year of unlimited free tuneups with every bike purchase.  This allows customers to develop a relationship and reach a certain level of comfort that keeps them coming back.  It's service and selection, coupled with very competitive pricing, that has led to the long-time success of Ski Rack Sports.
Heidi White is an agent specializing in life and health insurance.