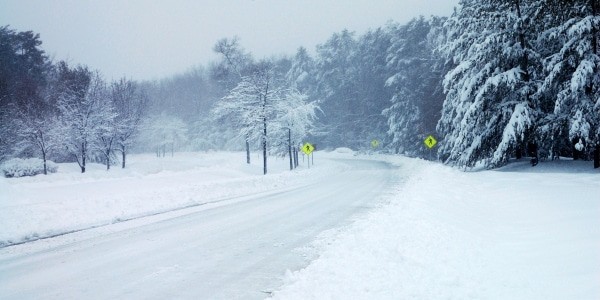 If you must drive in icy and snowy conditions make sure your car is prepared with the proper tires and always allow yourself extra time to reach your destination.
Driving Safely on Winter Roads
Decrease speed sooner and begin to brake earlier when approaching intersections. Leave a minimum three times more space than usual between you and the vehicle in front.
When braking, if wheels begin to lock up, let off the brake gently.
Avoid both overdrive and cruise control when driving on icy roads.
In icy conditions be careful not to slam the brakes.
Bridges and overpasses pose a special hazard and can freeze over with ice when conventional road conditions are normal. Air underneath the surface can cause icy conditions.
Remain behind snowplows and trucks spreading sand. The road in front of these vehicles is generally much worse.
Don't make the mistake of assuming that four-wheel drive vehicles can handle nearly all winter driving conditions. All vehicles are susceptible to icy roads, especially black ice.
Lower gears will assist you with keeping traction. Some newer vehicles have gears to assist with hills.
Always keep your lights on in snowy and other low visibility conditions.
Always keep lights and windshield clean.