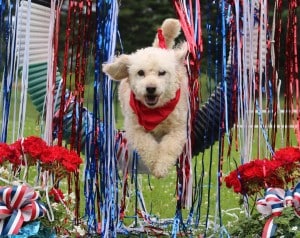 ** Submit your entries through our Facebook page**
F. A. Peabody Company (FAPCO) is holding its eighth annual Patriotic Pet Photo Contest on Facebook, beginning June 20 and running through July 1. The proceeds from the contest will be going to humane societies/animal sanctuaries throughout the state of Maine. The greater the number of entries, the more we will donate.
Here's how the photo contest works: When an individual submits a photo entry, they designate the shelter of their choice to receive $1.00. The shelter will receive $1.00 for every entry on its behalf. Shelters that have more than 25 entries on their behalf will receive $2.00 for each entry from #26 on.
The photo with the most likes will win an additional $100 for the selected shelter.
Winning pets of our previous Pet Photo Contests will be excluded, in order to give others a chance to win.
All shelters will receive a $1.00 donation for each entry on their behalf regardless of which photo wins.
There will be a maximum donation of $350 per shelter.
**IMPORTANT NOTE** Please consider proper American flag etiquette, as written on the website of the American Legion when posing pets for your photos. Specifically, do not place an American flag on your pet, the ground, or any object. And do not place your pet or anything else on the flag. We will not be posting photos unless respect for the flag is shown.
Contest starts June 20th

1. Submit photos of your pet(s). Only one entry per household.
2. Private message your photos to FAPCO through our Facebook page.
3. Photo clarity must be 300 dpi or higher image quality.
4. Contest runs from June 20, 2022 until July 1, 2022 at 4:00 pm EST.
5. Contest is open to Maine residents only.
6. Entries are to include the photo, the entrant's name, the name of the pet(s), mailing address, email address, and choice of animal shelter.
7. Entrants must like our Facebook page.
8. Winner(s) must be willing to submit or have a photo taken for our Facebook page, newspaper or other marketing medium.
9. All entries are subject to approval by FAPCO. FAPCO maintains control over all postings.
10. FAPCO maintains all rights to publish and/or use all photos submitted to the contest in our marketing and advertising.
11. FAPCO maintains the right to publish the photo, name and hometown of the entrant.
12. Entrants or participants must comply with Facebook rules by acknowledging that the promotion is in no way sponsored, endorsed, or administered by, or associated with Facebook.
13. The photos must be original and cannot be submitted of other people or their pets without their permission.
14. Winners are responsible for all taxes on the prize and must be willing to complete the appropriate tax forms for our records.
15. Benefitting shelters must be located in Maine and be organized as 501(c) (3) organizations through the IRS. FAPCO will be verifying the non-profit status of shelters.
16. All entrants are subscribed to FAPCO's email lists and will have the option to unsubscribe at any time.
Entry with the most "likes" wins! Winner(s) will be contacted by email. Inquiries may contact us with questions through our Facebook page.