One of the most misunderstood auto coverages is comprehensive auto coverage.  Basically, it's an optional coverage that covers damage to your auto for events other than collision. This insurance is sometimes referred to as "other than collision coverage". It will pay to repair or replace your vehicle if it's damaged by an incident that is out of your control.
Comprehensive coverage is different in many ways from collision coverage.  It covers damages from events such as those listed below and more: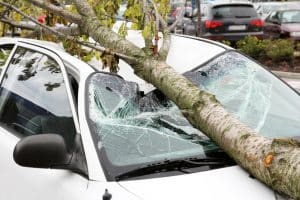 Theft
Fire
Glass breakage
Flood
Hail
Hitting an animal
Vandalism
Falling Objects
Comprehensive auto coverage does not cover getting hit by another auto, which is covered under your collision insurance.  It also does not cover normal wear and tear to your vehicle. This would include parts such as brakes, belts, wipers, lights and tires to name a few items not covered.
Comprehensive Coverage Has A Separate Deductible And Limit
Comprehensive coverage is similar to collision coverage in that it has a separate deductible and limit.  The deductible is the amount that you are responsible for paying before your insurance starts to pay for damages.  For example, if you were driving your car at night and a deer jumped out in front of you and your car hit the deer.  If the vehicle damage was $2000.00 and you carried a $250.00 deductible, what amount would the insurance company pay?  You would be responsible for the first $250.00 in damages and the insurance company would pay the difference of $1,750.00.
Comprehensive coverage also carries a limit, which is the maximum amount that will be paid under this policy coverage.  The policy limit for comprehensive coverage would be the actual cash value (ACV) of your vehicle.
What are the benefits to you of carrying comprehensive coverage?
There are basically three reasons to purchase comprehensive coverage.
It pays for the damages to your vehicle that are over your deductible and within the limit.
It is not dependent upon proving fault of another. It pays without regard to who's at fault.
This coverage will be required by any lienholder on your vehicle.
Yan can gain a more comprehensive understanding of this coverage by contacting your FAPCO agent.