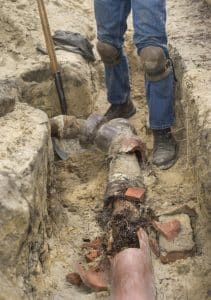 Service line coverage, what exactly is it?  Have you ever wondered if your homeowner insurance covers the lines that run into your home? The answer is that from the curb to your home you are responsible for any damage to the lines to your home. Your standard homeowner policy does not offer any coverage for this damage. You can fix that problem.
It can become very expensive to repair or replace damaged service lines. Whether it's a tear, rupture, leak, break or something completely unforeseen you are not protected under your homeowner policy. Service line coverage generally includes the following:
 Wiring
Underground Piping
Any attached devices that connect your home to a private system or public utility service
A common example of a service line problem would include a tree root breaking through a sewer line resulting in having to dig up the line for repairs. Another example would be wear on an underground electrical line that causes arcing that interrupts electrical service.
This coverage is a separate endorsement from your homeowner policy.  It is offered on a per- occurrence basis. For example, a service line coverage policy could have a $500 deductible and a $10,000 limit.  Not all insurance carriers offer the same deductibles and limits: therefore, it's important to learn what your insurance carrier offers. 
To learn more about this coverage, please contact your FAPCO agent.  Click To Learn More!