F. A. Peabody Company
Market Square Office – Circa 1960
F.A. Peabody Company
Presque Isle Office Staff
F.A. Peabody Company
Administrative Services Staff
Welcome to F.A. Peabody of Maine
F.A. Peabody is more than just a Maine insurance agency. F.A. Peabody is a Maine insurance superstore offering personal and commercial insurance products, niche insurance lines such as affinity plans, trucking and logging insurance, group benefits and bonding. Our wide selection along with having 8 locations throughout the state of Maine allows us to better serve our wide variety of customers.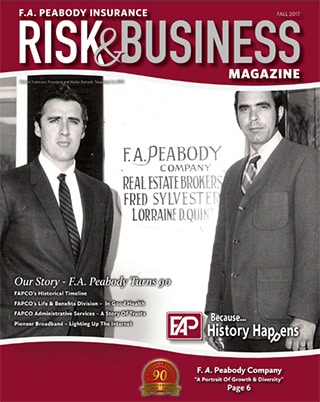 F.A. Peabody knows every customer is different and we have worked tirelessly to offer a diverse product line and educate our Maine insurance specialists to better serve you! Founded in 1927 we have been offering this personal touch to all of our clients for over 85 years. This attitude has been recognized around Maine as we were rewarded the Governor's Award for Business Excellence in 2008.
Whether you need affordable insurance in Bangor, Portland or anywhere in Maine, contact F.A. Peabody today to let us begin earning your trust. Maine Insurance from F.A. Peabody, Insurance in ME has never been more about you!
Our Blog
"Anyone who does anything to help a child in his life is a hero to me." Fred Rogers Here in the midst of Teacher Appreciation Week, I am looking for ideas for our blog and also looking for ideas for my 1st Grade son's teacher. Of course, I first turned to... read more
Ready for a quote?
Drop us a line anytime, and one of our customer service agents will respond to you as soon as possible
Get Started