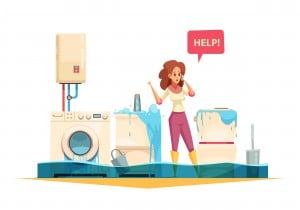 The standard homeowners policy does not provide water and sewer backup coverage.  Sewer and water backup is a reversal in the normal flow path of the fluid due to an obstruction.  Basically, the flow can be restricted for several reasons including a collapsed drain or blockage in a pipe such as tree roots.
Adding water/sewer backup endorsement to your homeowners policy is very inexpensive, ranging on average between $25.00 and $75.00 annually depending on your coverage limits and deductible.  Coverage limits range from as little as $3,500.00 and up to, in some cases, $25,000.00.
Below are 5 reasons to add this water & sewer backup coverage to your homeowners policy.
Water/sewer backup can happen to anyone. Backup caused by something obstructing the pipes is unlike groundwater issues because the potential of backup damage is not dependent on your elevation.
In most cases, your homeowners policy will not provide backup coverage and requires a separate endorsement.  It's best to call your agent to learn if you have this coverage and if so, your levels.
The likelihood of a backup increases with the age of the pipes.
The coverage cost is minimal when one considers the cost of repairing the damage to your home, especially if you have a finished basement.
This coverage qualifies you for "loss of use" coverage in the event the home is uninhabitable and you need another place to stay.
Water/sewer backup coverage does not include groundwater flooding issues.  Groundwater damage is covered under flood insurance and requires a separate policy.

Contact your F. A. Peabody agent for a quote or with any questions regarding your coverage.